With the spooky season upon us, it's time to plan a Halloween that will scare your socks off for good.
From the spectacular Halloween craze engulfing New York City to spooky celebrations taking place right here in Australia, wherever you are around the world there's a trick – and a treat – waiting around every corner.
So turn the lights off and light your jack-o'-lanterns in preparation for this frightening list of ten ultra spooky Halloween haunts around the world and at home.
Abroad…
1. New York City, USA
Americans are crazy about Halloween so where better to go bobbing for apples than in the Big Apple itself? In New York City there's a spooky event in every borough.
Haunted High Line Halloween, Manhattan – take a haunting tour of the High Line, complete with the chilling tales of its spooky history and participate in a trick-or-treat quest where the right answers will be rewarded with sweet treats
Details: thehighline.org
Image: thehighline.org
Halloween Haunted Walk at Lookout Hill, Brooklyn – all ages can take this haunted walk on October 24 atop the highest point in Prospect Park, where silly ghouls and goblins come out to play.
Details: nycgovparks.org
Image: brooklyn.happeningmag.com
2. Vancouver, Canada
Head to the West Coast then north across the border to Vancouver, Canada where the Halloween craze is no less extreme.
Vancouver Haunted Trolley Tours – throughout October hear gruesome tales like the Castelanni Milkshake Murder and explore Vancouver's scariest spots, including the Mountainview Cemetery and the Vancouver Police Museum where over 15,000 autopsies have been performed.
Details: vancouvertrolley.com
Image: raincitymama.wordpress.com
3. Mexico City, Mexico
Mexicans celebrate Day of the Dead on November 1 and 2, so if Halloween leaves you screaming for more, look no further. Mexico City plays host to hundreds of ofrendas (offerings to ancestral spirits) displayed on every corner, and of course, there's tequila!
Image: notinthepink.com
The Cemetery at San Gregorio Atlapulco in Xochimilco – mariachi bands play and families lay decorations on the gravestones of relatives for a hauntingly beautiful sight when the clock strikes 12 on the city's edge
4. Paris, France
Fright Night in the Paris Catacombs – Want an unforgettable sleepless night? Airbnb has released a competition for one lucky, or maybe not so lucky, winner and their guest to spend the ghostly evening of October 31 under the City of Lights in the resting chambers of 6 million passed souls.
Details: Enter via the Catacombs' listing at airbnb.com.au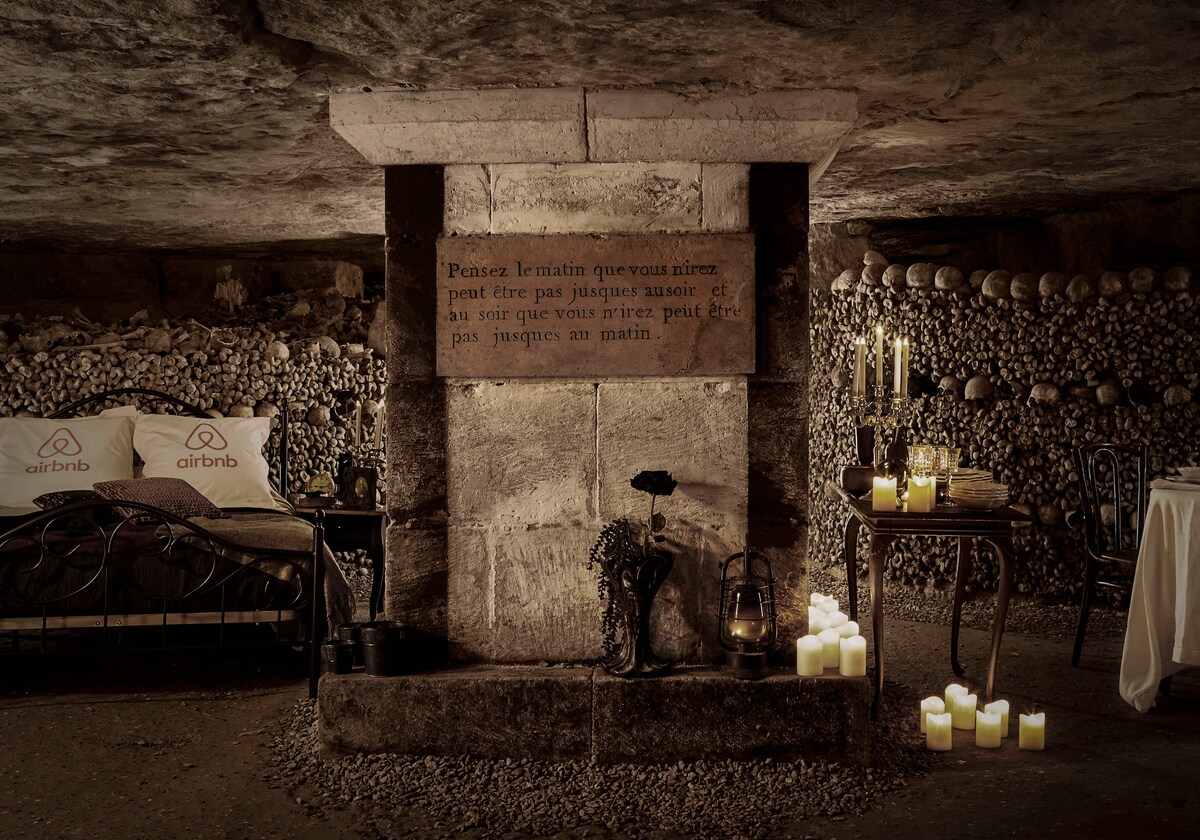 Image: airbnb.com.au
5. Hong Kong, China
If you're in Asia, then Hong Kong is the most frightening destination for Halloween junkees.
Yue Lan – during the "Festival of the Hungry Ghosts", participants at this street party have the opportunity to give gifts to deceased souls to provide comfort and fend evil spirits away.
Details: discoverhongkong.com
Image: Cheryl Chan/Flickr
Halloween Bash – Party animals will be impressed and frightened by Hong Kong Disney Land's annual Halloween Bash with Halloween-themed rides and spooky displays offering an eerie mixture of fun and fright.
Details: hongkongdisneyland.com
Image: Hong Kong Disneyland/hongkongdisneyland.com
At Home…
If you're not lucky enough to be abroad on the scariest day of the year, there are plenty of ghastly offerings here at home.
6. The Rocks (Sydney), New South Wales
Walking through the cobbled laneways of The Rocks offers a true, eerie sense of Sydney's past with sandstone terraces, convict cottages and some of the country's oldest pubs by the water.
The Rocks Ghost Tours – these two hour walking tours by night of this historic precinct, offer spine-tingling stories to amaze and spook as you tiptoe down lantern-lit cobbled streets by dark.
Details: sydney.com/things-to-do/
Image: therocks.com
7. Maitland, New South Wales
Maitland Gaol – Open your eyes to the haunting past of this formeAdd Mediar maximum security prison housing some of Australia's most notorious criminals. Today, visitors can venture inside the facility, untouched since its closing in 1988.
If you're feeling brave, an overnight stay in one of the cells can be arranged but be warned – this tour is not for the fainthearted.
Information: visitnsw.com
8. Adelaide, South Australia
Horror Movie Campout – Camp out in the woods for the scariest weekend of your life this Halloween at Adelaide's inaugural Horror Movie Campout.
Camping with three friends in Kuitpo Forest, nobody will hear your screams during this marathon of two full length horror movies that will make sure you won't sleep a wink this Halloween.
Details: moviecampout.com.au
9. Melbourne, Victoria
The Asylum – Melbourne's most horrifying adults-only haunted house experience hosts 15 minute tours by night in Ormond Hall from October 29-31.
This infamous institution was known for its sociopathic matrons and neuro-surgeons who ensured that few who entered the walls of this institution left cured of their psychosis, and with this frightening display, we're not sure that you'll fare much better…
Details: spooktober.com.au
Image: asylum.spooktober.com.au
10. Brisbane, Queensland
Ben & Jerry's Openair Cinema – the Ben & Jerry's Openair Cinema in Southbank will offer nail-biting flicks Beetlejuice and The Lost Boys and plenty of sweet ice cream for you to drown your fears in.
Details: openaircinemas.com.au
Image: brisbanethreads.com
Featured Image: MANSOUR DE TOTH (Laszloen)/Wikimedia Commons